1999 Santa Fe Science-Writing Workshop
June 19 to 24
Santa Fe, New Mexico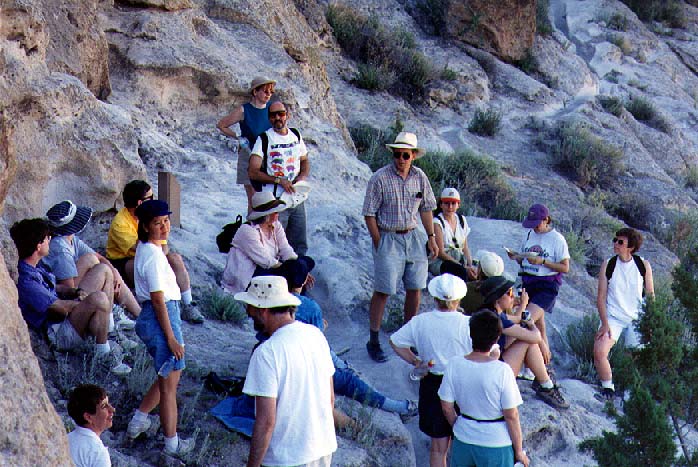 The fourth annual Santa Fe Science-Writing Workshop will begin Saturday evening, June 19, 1999, and run through Thursday morning, June 24, at Plaza Resolana in downtown Santa Fe. This year's faculty will include Laurie Garrett, Pulitzer-prize-winning reporter for Newsday and author of The Coming Plague: Newly Emerging Diseases in a World Out of Balance, Richard Harris, Peabody-Award-winning science reporter for National Public Radio, and Dennis Overbye, deputy science editor for The New York Times and author of Lonely Hearts of the Cosmos. Classes will also be taught by the originators of the workshop, George Johnson, science correspondent for The New York Times and author of Strange Beauty: Murray Gell-Mann and the Revolution in 20th-Century Physics, and Sandra Blakeslee, science correspondent for The New York Times and coauthor, with V. S. Ramachandran, of Phantoms in the Brain: Probing the Mysteries of the Human Mind. Please bookmark this page and check back regularly for updates. And to get a flavor of what to expect, see our pages from last year and the FAQ.
The last three workshops each attracted about 40 students from all over the country. Some were working science writers who wanted to hone their skills and meet more of their colleagues. Some were writers from other fields hoping to make the switch to science writing. Some were public information specialists from universities and government laboratories. And some were scientists who wondered if they might like writing more than research.
Previous instructors have included Rick Weiss, science writer for The Washington Post; Natalie Angier, science correspondent for The New York Times and winner of the Pulitzer prize; Jon Franklin, two-time Pulitzer prizewinner and professor of creative writing at the University of Oregon; Michael Lemonick, science writer for Time magazine, Paul Hoffman, editor-in-chief of Discover magazine, Cory Dean, editor of Science Times, and Timothy Ferris, author of The Whole Shebang: A State of the Universe(s) Report and Coming of Age in the Milky Way. Other speakers have included the author and New Yorker writer Douglas Preston, Tom Johnson, an expert on electronic journalism, and the authors John Casti and Pamela McCorduck.
The cost for 1999 will be about the same as last year: tuition is $500. Lodging for five nights at Plaza Resolana (double occupancy with breakfasts and lunches included) is $325. For a private room (a very limited number are available) the lodging cost is $475. Those who don't need to stay at Plaza Resolana will pay a $100 commuter fee, which covers lunches, coffee, course materials, and other incidentals. In addition there will be a $25 per person activities fee to pay for a group dinner one evening at a local restaurant and a barbecue on the final afternoon of the conference. (On the other nights, we'll all hit the restaurants and bars around the downtown Plaza and fend for ourselves.) All told, the cost is $625 if you commute, $850 if you stay with a roommate, and $1,000 if you want a single room.
You are welcome to bring a spouse or friend, in which case you will pay the double-occupancy rate plus $50 a night for the extra person (breakfasts and lunches included).
In the past, some people have chosen to stay instead at local bed and breakfasts. Many are within a few minutes' walk of Plaza Resolana and the Plaza.
Please burrow into our Web site and see what we did in 1998, in 1997, and in 1996. You can also read comments from people who attended previous workshops. If you have any questions, please contact George Johnson or Sandra Blakeslee. The event is being held under the auspices of Plaza Resolana, a nonprofit organization.
photos by Bill Wilburn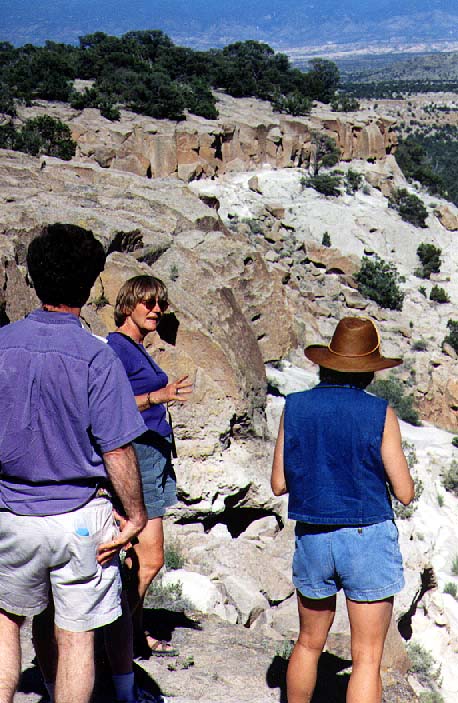 Return to George Johnson's Home Page.
last updated 4/21/99.